Little Cosmos – JIANG Fang's Solo Exhibition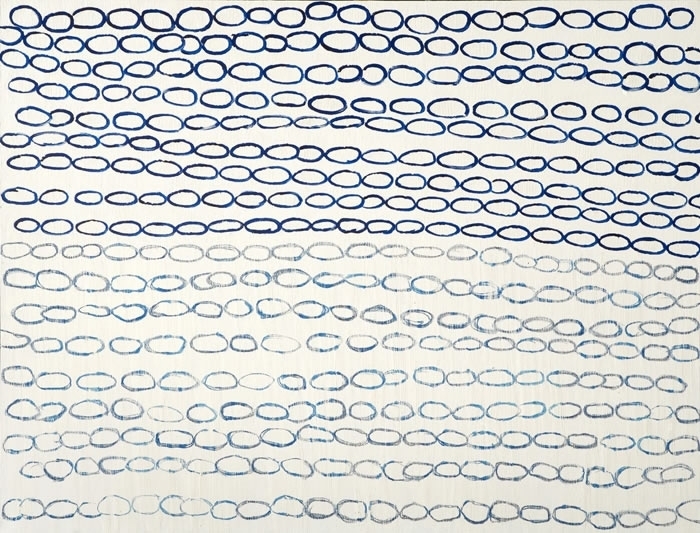 Press Release
Jiang Fang's Little Cosmos
TIAN Kai
Jiang Fang's works look like abstract paintings. But they are not. Even the form is similar to the abstract style。The source of image and the spirit are also quite different from the abstract paintings. Actually, she is using oil on canvas to simulate nature, such as snowflakes, rust, tiny cracks of wall, hair, bacteria which grow and spread freely, etc. If they have to be traced or classified, the quality of her works is closer to the works of Italian artist Lucio Fontana who pierced the canvas to make a lot of holes. And he combined the holes with the agglomerations of thick-coating paint, breaking the boundaries of painting and sculpture. As for the Jiang Fang's, the canvas and paint are just regarded as a medium to highlight the material texture and directly express the texture of what is simulated. Many of her works are not finished in an imagination of plain space. With the help of the techniques, such as sculpture, grain cracks, the pictures are simple and direct. it seems like it's a non-hand drawing.
In this sense, Jiang Fang is particularly like a "poverty artist", who is working on easel painting. The so-called "Arte Povera" rose in Italy in 1960's. It just uses the simplest ready-made material, such as braches, metal, glass, fabric, and stone, to paste together and combine. Many of them are installations. Its meaning is that it reveals the importance of the human experience. In such a creation, the artist is not the dominator of the works. The artist's experience of the material and the viewer's experience of the works have become the integral parts of work creation. In Jiang Fang's works, she organizes the painting language unconsciously, and leave the paint themselves to "speak" entirely. The simulation of nature many is not mature enough but full of fun, which is different from Roxy Paine's mechanical and inorganic sense, and also different from the Spanish artist Miquel Barceló's strong man-made feelings and surreal style. The details in life that Jiang Fang mainly focuses on represent the female artists' nature of observing things in a subtle way. The full-covered rust-colored dots multiply and spread in bright-colored background, transmitting the musicality of Bach's "The Well-Tempered Clavier", and a bit of nervousness as well.
All of these works are not the paintings in normal sense. They are the performance of "the little cosmos" of the artist herself. Thanks for some common tools and simple technique, "the little cosmos" becomes a flow of natural energy on pictures. This kind of flow, sometimes, is under control; sometimes, it is out of control. When it is controllable, Jiang Fang creates a nature. And when it is uncontrollable, she discovers a nature instead. To her pictures, discovering a world is the most precious.